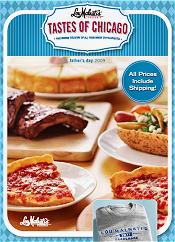 Lou Malnati's Tastes of Chicago
Lou Malnati's - Chicago's best mail order pizza, Italian beef, hot dogs, cheesecakes and Chicago favorites
Free standard shipping on your entire order! Your savings will be applied automatically at checkout on the Lou Malnati's Tastes of Chicago website for delivery on Mon. - Thur. only.
Shop these Lou Malnati's departments now
Lou Malnati's is as rich in history as its pizza is in flavor. Considered the oldest family name in Chicago pizza, Lou Malnati's Tastes of Chicago brings you all of the authentic tastes of Chi-Town featuring mail order food from ribs to hot dogs and of course, their famous Lou Malnati pizza.