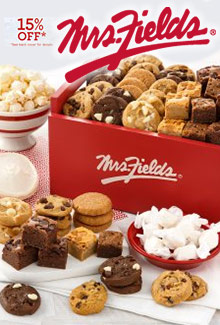 Mrs. Fields
The best cookies, gourmet gifts and confectionary creations, from Mrs. Fields
Get 15% off all purchases Enter the Discount Code - CATCOM - at checkout on the Mrs. Fields website.
Not valid in stores.
Shop these Mrs. Fields departments now
Simply the best cookies and confections, featuring an unforgettably rich selection of cookies, brownies and gourmet treats that are baked fresh and guaranteed to spread smiles.