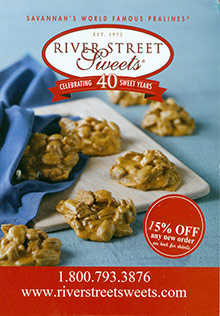 River Street Sweets
Delicious Southern Sweets - Luscious pralines, bear claws, chocolate covered pecans and Gourmet Baked Goods.
Get 15% off your first purchase Enter the promotional - coupon code - CAT16 - on River Street Sweets checkout cart.
Shop these River Street departments now
Enjoy the finest in hand made candies and desserts made from authentic old fashioned Southern recipes. Shop the River Street Sweets catalog, locally in Georgia and South Carolina, or at their online candy stores.