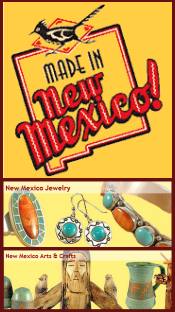 Exquisite Southwest gifts, foods, jewelry, home decoration and Southwestern art
Made in New Mexico has the best selections of Southwestern jewelry and art plus beautiful Southwestern home decoration - featured at Catalogs.com.
20% Off your first order! Enter the code - c47531 - during during checkout on the Made in New Mexico website.
Southwestern home decoration and gifts - For Southwestern decor, don't settle for anything that isn't Made in New Mexico. Choose from handcrafted clocks, table lamps, kitchenware, tableware and other Southwestern home decoration accents.