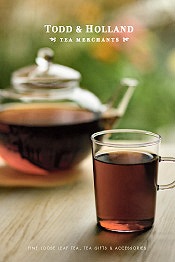 Todd & Holland Tea Merchants
The finest teas - Green, White and tasty Ginger tea + tea pots and accessories
Get 10% Off orders of $50 or more Enter the discount code - CATALOGS10 - in the last page of checkout on the Todd & Holland website.
Shop these Todd & Holland departments now
Todd & Holland Tea Merchants is world renown for the tastiest teas. Featuring the largest selection of 100% 1st and 2nd flush Darjeeling teas and a unique selection of high quality flavored and classic blends of tea. Their selection includes Original Spice, Morning Dew, Earl Grey, White Tea, Ginger tea, Green tea and other tasty tea varieties.