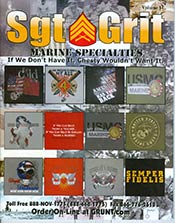 Sgt Grit Marine Corps Specialties
Your source for all things Marine Corps - from clothing to posters with over 5000 USMC items to choose from!
Get $10 Off Any Order of $40 or More Enter the discount/coupon code - CATCOM - at checkout on the Sgt. Grit's Marine Corps Specialties website.
Shop these Sgt. Grit's departments now
Shop their large selection of Marine Corps clothing for men, women, and children. They have plenty of USMC Marine Corps apparel to choose from; they have something for everyone. Show your USMC pride today with Official Licensed Marine Corps gear from Sgt Grit. "If they don't have it, Chesty wouldn't want it"