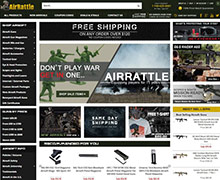 AirRattle
Airsoft guns, magazines, batteries and air gun accessories
Get Free Shipping on orders of $120 or more
& a Free T-Shirt ($20 Value)
on orders of $80 or more. Your savings will be applied automatically at checkout on the AirRattle website.
Shop these AirRattle departments now
Airsoft players and air gun enthusiasts depend on AirRattle for a complete selection of airsoft guns, magazines, chargers, accessories and tactical supplies for competitive and recreational airgun sports.