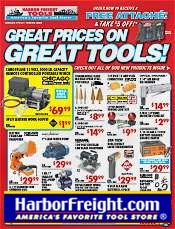 Harbor Freight Tools
Power tool supply - Hand and power tools for home or workshop
Get $6.99 Flat-Rate Shipping
plus
Free handling & insurance Your Shipping offer will be applied automatically at checkout on the Harbor Freight Tools website.
For all your tool supply needs, Harbor Freight Tools has been a leading name in home and workshop equipment, power tools and equipment sine 1968 with over 7,000 tools in stock daily. Find all the brand names in power tools including: DeWalt, Chicago Electric, Pittsburgh, Makita, Central Machinery, Central Hydraulic, Stanley, and Central Forge tools. You can do anything from build a birdhouse to fix your own house with power tool supplies from Harbor Freight Tools.