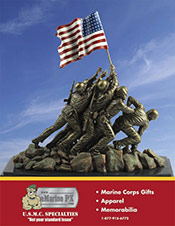 eMarine PX
USMC accessories including Marine Corps gifts, clothing, collectibles and more
Get Free Shipping on orders of $25 or more Your savings will be applied automatically at checkout on the eMarinePX website.
Shop these eMarine PX departments now
Show off your Marine Corps pride with USMC accessories from eMarine PX! You can shop for Marine gifts such as: t-shirts, sweatshirts, teddy bears, and a variety of other Marine gifts that will have you feeling proud to be a Marine. You'll even find Marine gear and equipment such as award ribbons and other Marine Corps gifts including knives, decals, and patches.