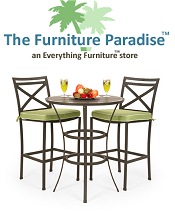 The Furniture Paradise
Outdoor tables, chairs and patio sets for sale at amazing prices
Buy more, Save More with their Volume Discounts!
Total Before Shipping Discount
Between $500 - $999 5% off
Between $1,000 - $2,499 10% off
Between $2,500 - $4,999 15% off
Over $5,000 20% off Your discount will be applied automatically at checkout on the Furniture Paradise website.
Shop The Furniture Paradise Now!
Find patio sets for sale with an upscale selection of patio table and chairs to choose from! Metal patio furniture, wrought iron outdoor furniture, wooden deck furniture and more!
Patio table and chairs - Come to the Furniture Paradise to find patio sets for sale at amazing discount prices!! Whether you prefer an iron patio table and chairs, or a Cabana inspired set, you'll find a patio table and chairs set that's perfect for your personal outdoor oasis.