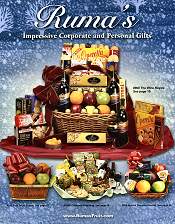 Ruma's Fruit & Gift Basket World
Unique gift baskets for all occasions - from wine and chocolates to spa care goodies
10% Off any gift basket. Enter your coupon code - CC7 - in the Coupon/Customer Code box in the Promotion Center at check-out on the Rumas Fruit website. Your 10 % discount will be applied on your initial order.
Shop Ruma's Fruit & Gift Basket World Now!
No matter what the occasion, the gift specialists at Ruma's Fruit can create the perfect gift baskets for women, men, teens, children and even pets.