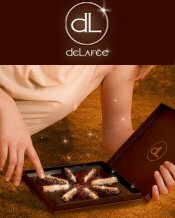 DeLaFee International
Edible gold - the gift for the person who has everything
Free heart-shaped strawberry lollipop with 24 karat edible gold ($30.00 value) with any order above $200 US Enter the code - Catalogs.com - in the comments box at checkout and receive your Free $30 value gift.
Shop DeLaFee International Now!
DeLaFee is the perfect place to find a gift for the person who has everything.