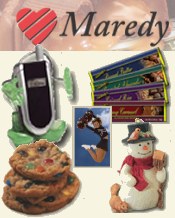 Maredy Fundraising Gift Catalog
Fundraiser ideas for charity, church and school fundraisers
Shop Maredy Fundraising Gift Catalog Now!
Catalog fundraising ideas from Maredy will raise more profits for your group than any other means. They have gift wrap, box chocolates, candles, gift items, and more...ALL IN ONE CATALOG! Each seller can generate a profit of $100.00 or more.

Find fundraiser ideas for charity, church, school fundraisers and more. Their program yields the highest profit for three simple reasons:
Low Prices: Over 75 items are between $5.