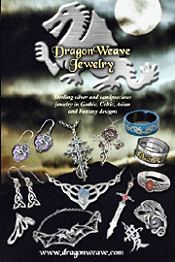 Beautiful Silver Gothic Jewelry
Silver gothic jewelry, from dragon pendants to cuff bracelets they have Celtic and goth jewelry including gothic rings for men and women – featured at Catalogs.com.
$5 Off your order PLUS 10% off orders of $100 or more. Enter the code: CATALOGS.COM at DragonWeave's "coupons" page and get $5 off any order PLUS 10% off your order of $100 or more.
Celtic and Gothic rings - Make a statement with women and mens silver rings featuring Celtic, mystical, and goth symbols. Or select the simple but elegant look of unadorned sterling silver rings - perfect as wedding rings.