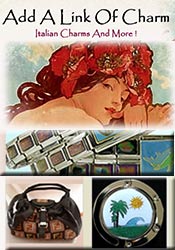 Add A Link Of Charm
Jewelry Italian charms featuring beautiful and authentic Italian charm bracelet links
Get 10% off
plus Free Shipping on orders of $69 or more Enter the Coupon Code - iamspecialtoo - at checkout on the Add A Link Of Charm website.
Shop these Add A Link Of Charm departments now
Add A Link of Charm brings you an absolutely charming collection of authentic Italian charms, with hundreds of styles and designs of Italian charm bracelet links to choose from! Find jewelry Italian charms for all of your loved ones that are customizable for a beautiful personalized gift!