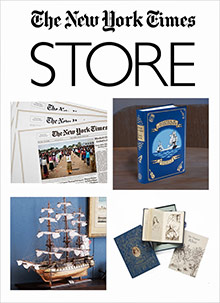 The New York Times Store
The New York Times Store - Newspaper collectible gifts, art and famous newspaper & photo reprints inspired by The New York Times
Get 10% off your online purchase Enter the coupon code - CATALOGS - at checkout on The New York Times Store website.
Shop these NYTimes Store departments now
We all love reading about the world as reported in the pages of The New York Times. Bringing us all the news that's fit to print since 1851, The New York Times Store features exciting, innovative and timeless gifts from collectibles to memorabilia, personalized gifts to fine art and newspaper front page and photo reprints.