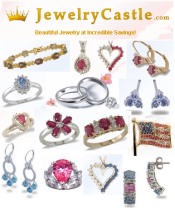 Hand-selected fine jewelry at an affordable price
Buy gifts and jewelry online including discount wedding rings, necklaces, bracelets and earrings at the Jewelry Castle's on line jewelry stores featured at Catalogs.com.
$10 Off orders of $250 or more! Enter - CAT0906 - in the Coupon Number box at checkout on the Jewelry Castle website.
Rings & more -- Choose from hundreds of unique and beautiful rings set in 14 KT yellow or white gold. Add to your collection of fine jewelry with sparkling sapphire, emerald, aquamarine, or other gemstone rings, or select stylish and affordable sterling silver rings.