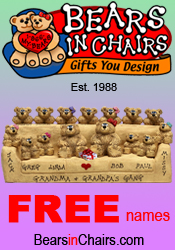 Bears in Chairs, Gifts You Design!
Custom Created Parent Gifts for Mom, Family and Friends. Names Personalized FREE!
Get 15% Off orders of $50 or more Enter the Coupon Code - FamilyBears - at checkout on the Bears in Chairs website.
Shop these Bears in Chairs departments now
A Beary Unique Gift Idea since 1988, Bears in Chairs helps you design "chairs" that hold a group of solid personalized teddy bears and their names. Looking for a heartfelt gift for parents? Create a couch with up to 42 family bears of your choice! For someone who deserves a pat-on-the-back? Design a plaque, desk, business card holder, boat or figurine! Bears in Chairs, Gifts You Design is great for anniversaries, birthdays, retirement or any occasion or holiday. Explore over 20,000 choices while enjoying their 22-years of expert craftsmanship!