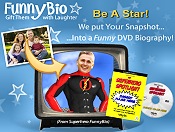 FunnyBio
Hilarious personalized DVD videos featuring your family or friends as a pop star, movie star, super hero or golf legend
Receive 10% Off any online order Enter promotion code - CAT10 - at checkout on the FunnyBio website.
It's the funniest gift ever and so easy too! Let FunnyBio Studios create the perfect personalized photo gifts for everyone on your gift list with their hilarious videos featuring the chosen recipient's face as a super hero, pop star, movie star or golf champion.
The ultimate in retirement gag gifts - Create a lasting tribute that's perfect for retirement party humor.