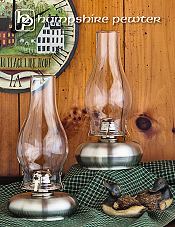 Add panache to your home with pewter candlesticks, tableware and more
Hampshire Pewter has unique, handcrafted home decor items including pewter candlesticks, pewter goblets, and pewter nativity sets - featured at Catalogs.com.
Get 10% Off any order Enter the code - CATCOM08 - during checkout on the Hampshire Pewter website.
Pewter Home Accents - Create a mood and light up your life with a vast assortment of candlesticks, candle holders and oil lamps, all guaranteed to bathe any room in the softest, warmest glow. All of these fine items are also ideal wedding gifts or hostess gifts.