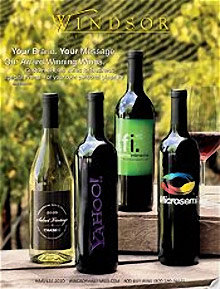 Windsor Vineyards
America's premier direct wine merchant since 1959 unique custom gift baskets and personalized wine labels
Get 15% off your purchase Enter coupon code - catalogs2 - in the coupon code box at checkout on the Windsor Vineyards website. Discount will be reflected in the final price.
Check out their NEW Custom & Occasion Etched Glass Wine Bottles

Windsor Vineyards in Sonoma County has been producing great wine with a personal touch for nearly 50 years. Year after year, Windsorís wines consistently score among the most award-winning in the country. In fact, Windsorís Winemaker, Marco DiGiulio, recently hailed by the prestigious "Wine Spectator", is one of the most talented winemakers working today.