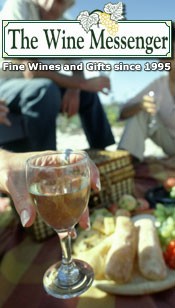 Wine Messenger
Fine specialty wines from around the world
10% OFF any order for first time customers. Enter the code: - catalogs.com - during online checkout and get 10% OFF your first order.
Enjoy the finest wines of the world at your table, or treat someone special to outstanding wine gifts. Choose from:
Many types of wine -- The Wine Messenger has the most popular wine types, and their easy-to-search website makes online wine purchases simple. Search by your favorite general types of wine, such as red, white or sparkling, by variety such as Cabernet Sauvignon or Pinot Grigio, or by selecting the foods you plan to serve.