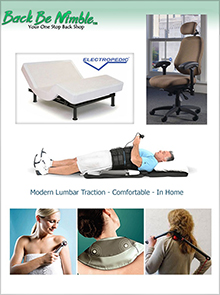 Your One Stop Back Shop
Back Be Nimble specializes in back pain relief product solutions, comfort, and postural support for conditions of the neck, back and body. Our catalog provides detailed information on therapeutic self-care products; uniquely doctor-tested for proven results, comfort and a pain-free lifestyle.
Founded in 1994, Back Be Nimble pioneered the retail of self-care, comfort and ergonomic products on the internet and endeavor to remain your vital link for compelling neck and back pain solutions.