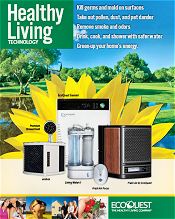 Air purifiers and cleaner water from EcoQuest for healthy living
EcoQuest is the is the company to turn to for cleaner air and healthier water with the EcoQuest air purifier and home water and air filters - featured at Catalogs.com.
Get the PHX for half price, when purchasing the Green Air and Green Energy Package! This offer will be applied automatically at checkout when you click on the link below to shop.
EcoQuest air purifier - Enjoy a breath of fresh air with EcoQuest Fresh Air air purifiers that are proven to reduce 99.