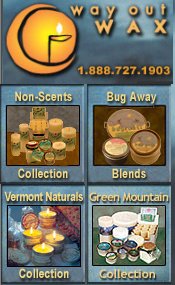 Way Out Wax
Handcrafted aromatherapy candles, scented pillar candles, and soy candles for healthy living and relaxation
Get 10% OFF your entire order! Simply enter the coupon code - catalog - in the Coupon Code box during checkout on the Way Out Wax website.
Nestled in the Green Mountains of northern Vermont, Way Out Wax Candles began in 1992 with the idea of creating handcrafted unique candle gifts that would provide more to the beholder than just light in the dark. Their lovely and richly scented candles are all natural beeswax candles or soy candles, clean burning and environmentally friendly.

From the beginning, their scented pillar candles, votives and container candles were created as works of art.