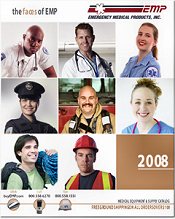 Emergency medical supplies for your home or office
Emergency Medical Products provides medical office supplies like a Littman stethoscope as well as home care medical supplies and instruments - featured at Catalogs.com.
10% Off your first order of $50 or more.
Free Ground shipping.
No S&H on orders over $100. Enter code - CATEMP08 - in the Special Instructions box during Step 2 of the checkout process on the Emergency Medical Products website. Discount will be reflected in your order confirmation email. Some restrictions apply.
Shop Emergency Medical Products Now!
Home care medical supplies - Save yourself a trip to the hospital and stock your home better than a working ER with bandages, gauze pads, first aid kits and supplies, defibulators, pulse and blood pressure monitoring, disaster kits and all of the other first aid essentials.