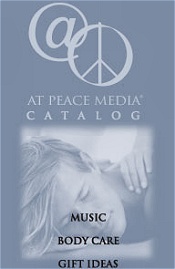 At Peace Media
The soothing sounds of relaxation and meditation
Save 10% on your entire order (oil/lotion not subject to 10% savings) ALSO get Free shipping on any order over $100! Enter the code - CATCOM1288 - in the Promo Code box during checkout on the At Peace Media website.
Shop these At Peace departments now
Let At Peace bring calm, inspiration and relaxation to your life with music, instructional massage videos, and natural massage therapy products.