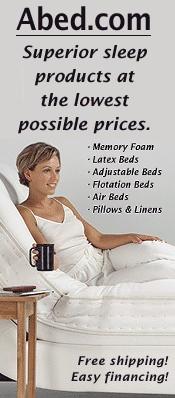 Superior sleep products and adjustable bed mattress systems at the lowest possible prices
A Bed featured at Catalogs.com. Whether you're shopping for an air bed mattress, adjustable bed mattress, waterbed mattress, or traditional mattress, they have the sleep system you want at direct-from-the-factory savings.
$100 Off all orders over $999! When you place your order, call ABED at 1-800-519-9038 and ask your sales representative to apply this Catalogs.com special offer.
The finest latex memory foam bed choices
Comfortable, floating-on-a-cloud adjustable air bed mattress options
A variety of waterbed mattress styles, including soft side waterbed designs
Popular adjustable bed mattress choices, for the ultimate in custom comfort
Quality traditional mattresses
Plus a variety of bed linens and accessories.