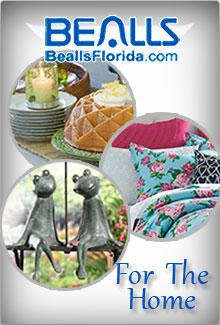 Bealls - For The Home
Coastal inspired home décor and decorating accessories
Get Free Shipping on orders of $65 or more Enter the discount code - CATALOGS65 - at checkout on the Bealls Department Stores website.
Shop these Beall's - Home departments now
The Bealls - For The Home coupon code makes everything you need to create a coastal vibe throughout your home affordable. Bring the feeling of paradise to your home interior with palm tree motifs, sand and sea décor and a touch of flamingo humor.