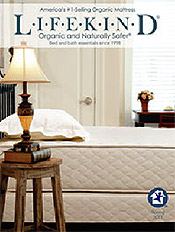 Lifekind®
Best organic mattresses and bedding - Organic and Naturally Safer® products from Lifekind®
Get 20% Off your purchase* Save 20% on the Lifekind® products ordered online. Enter promotion code - CATCOM20 - in the Promotion Code box at checkout on the Lifekind®website.*Excludes: mattresses,crib mattresses, Shasta mattress, furniture, gift certificates, and clearance items already discounted.
Shop these Lifekind departments now
The Lifekind catalog includes products to help you sleep safer and more comfortably, and featuring the best organic mattresses and natural bedding.