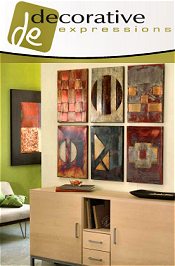 Decorative Expressions
The perfect accent to complete any room
10% Off any order of $50 or more! Enter promotion code - CAT001 - in the promotion field at checkout on the Decorative Expressions webiste.
Shop Decorative Expressions Now!
Add your own special touch to each room in your home when you choose from their stunning collection of decorative table top and wall accents for the home, including:
Unique candle holders - Light up your home with elegant metal, wood and glass candle holders. From stone and metal holders that echo ancient art to modern glass cylinders, each of their unique candle holders adds its own style to your home.