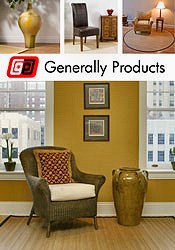 Generally awesome slick deals and discount shopping online
For discount shopping online, Generally Awesome.com has an eclectic supply of general products from furniture to a skateboarding DVD to other slick deals - featured at Catalogs.com.
10% Off Your Entire Order Enter discount code - 1144772 - at checkout on the Generally Products website.
Furniture and Home Decor - Fill that bachelor pad with some contemporary area rugs that will impress all of the ladies, including Mom! From bamboo discount area rugs and bamboo mats from Anji Mountain Bamboo Rug Co.