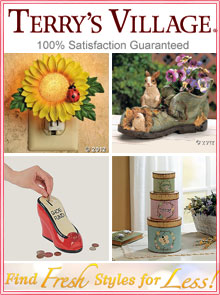 Terry's Village
Affordable home accents, decor, collectibles and gifts
Get Free delivery on orders of $49 or more Use the key code - WSTCC14 - at checkout on the Terry's Village website.
Shop these Terry's Village departments now
Terry's Village offers a huge selection of affordable home décor items, keepsakes and gifts designed with you in mind. From Country home décor to reproductions and folk art, Terry's Village will become your favorite source for themed home accents, seasonal décor and gifts.