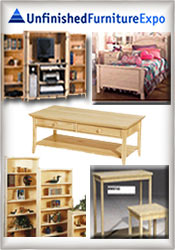 Unfinished Furniture Expo
Furniture unfinished - From unfinished kitchen furniture to bedroom furniture
Get $10 Off orders of $99 or more Enter the coupon code - CAT10 - at checkout on the Unfinished Furniture Expo website.
Shop Unfinished Furniture Now!
If you prefer to buy your furniture unfinished, you'll find the largest selection of ready-to-finish furniture online at the Unfinished Furniture Expo. From unfinished kitchen furniture to unfinished bedroom furniture, you'll find an amazing variety of quality pieces that will last a lifetime.