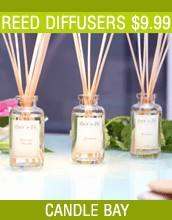 Candles, reed diffusers & scented oils for every room in your home
Candle Bay Candles and Reed Diffusers has scented candles online, including richly scented candles, decorative fragranced pillar candles, votives and tea lights - featured at Catalogs.com.
Free Shipping on all orders! Use coupon code - CATALOG - at checkout on the Candle Bay Candles & Reed Diffusers website
Shop Candle Bay Candles & Reed Diffusers Now!
Deliciously fragranced jar candles -- Jar candles are the classic candle choice for kitchens, bathrooms, and family rooms. Enjoy the luscious scents of Candle Bay's fragranced jar candles for the holidays or any day.
Fragrance oil and reed diffuser kits -- Add a subtle and lasting scent to your home with essential oils and reed fragrance diffusers.