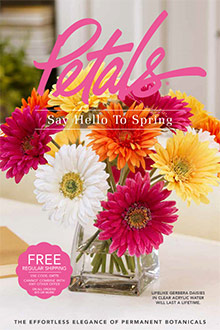 Petals
Stunning silk flower arrangements, silk plants and trees to adorn your home
Get Free Shipping on all orders of $75 or more Enter the Offer Code - CAT75A - at checkout on the Petals website.
Limit one per customer, good on merchandise only, can not be used in conjunction with other offers.
Shop these Petals departments now
Add color, vibrancy and style to your home when you select from Petals' exquisite collection of silk plants and silk flowers online.