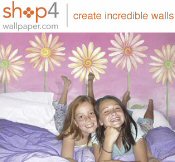 Shop4Wallpaper.com
Create incredible walls with wallpaper murals & borders
Take 25% off retail price on every product—no coupon code necessary! No code needed. Offer is automatic when you link from Catalogs.com
Find the perfect way to express your style at Shop4Wallpaper.com, an exciting new resource for wallpaper, murals, borders, and more! With more room photos than any other wallpaper site, this website is built to inspire.
More Room Photos than Any Other Wallpaper Site
Custom and Personalized Options
Innovative Products

They've selected hundreds of room photographs featuring products to take the guesswork out of decorating.