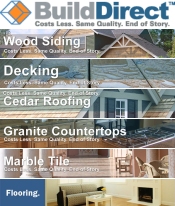 Hardwood laminate and tile flooring -- Plus decking, cedar siding and roofing
Build Direct featured at Catalogs.com. Shop for prefinished hardwood flooring, cork flooring, laminate, tile, cedar siding, and more. Every day is a hardwood flooring sale, with their always low prices on flooring and more.
Discount wood flooring -- Whether you need prefinished hardwood flooring, laminate, or discounted bamboo or cork flooring, their low prices are like having a hardwood flooring sale available every day of the year.