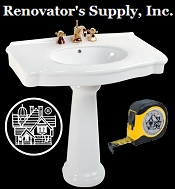 Renovator's Supply
Renovate with decorative hardware - top names in door, kitchen and bathroom hardware
Free Ground Shipping on most web orders over $125 Free Shipping on most orders of $125 or more is applied automatically on rensup.com. ** Some exclusions apply. Please see website for details.
Renovator's Supply, Inc. has been helping homeowners, developers, and contractors create beautifully decorative home environments since 1978. The catalog quickly became the premier source for home renovation hardware and other decorative restoration products. Choose from:
Fine reproduction antique hardware - The little decorative touches make all the difference in home renovation.