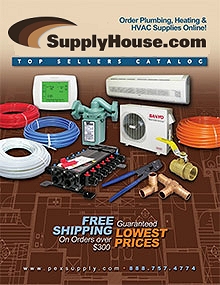 SupplyHouse.com
SupplyHouse.com - plumbing supplies, radiant floor heat & HVAC
Get Free Shipping on orders of $99 or more Your Free Shipping Offer will be applied automatically at checkout on the SupplyHouse.com website.
Shop these SupplyHouse departments now
SupplyHouse.com is an online supplier of plumbing, heating, HVAC and electrical supplies. Their goal is to provide extremely competitive prices with a guarantee to match any lower price you find on the web. Prevent small plumbing problems before they turn into costly plumbing nightmares with PEX tubing, PEX, fitings, nipples, manifolds, air eliminators, circulator pumps, water heaters and many other supplies that will save you time and money in the future.