Lehman's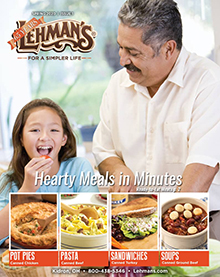 Homewares from a bygone era.
Your source for old-fashioned, hard-to-find items such as pickle kegs, grain mills, wooden barrels, hand water pumps, wood cookstoves, heating stoves, canning supplies, and much, much more.

In all, they have over 3000 items online... more items in their print catalog!

You might be needing a particular functional item to help you become self-sufficient... or maybe you'd like to find the perfect piece of unique decor to accent your home... or maybe you're trying to restore or re-enact something historical... whatever your goal, we hope you'll enjoy their collection of unique, fun, and functional products!
Shop these Lehman's-catalog departments now