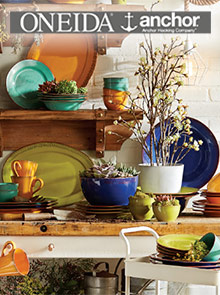 Oneida - Anchor Hocking
Famous glassware, cutlery, dinnerware and kitchen essentials made in America
Get 15% Off of your entire order Enter the promotion/coupon code - CD15 - at checkout on the Anchor Hocking website.
Shop these Oneida - Anchor Hocking departments now
Shop Oneida - Anchor Hocking Now!
Treasure the simple elegance of Anchor Hocking and Oneida glassware, fine cutlery and cookware with timeless design and quality that will last for generations.