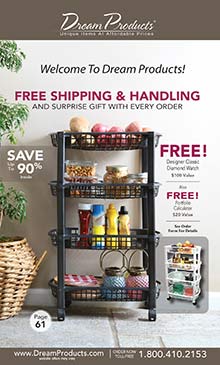 Dream Products Catalog
Helpful housewares, for the kitchen to the garage.
Get 10% Off orders of $30 or more and Free Shipping! Enter the Discount Code - CATALOG - on Dream Products Catalog website during checkout and
SAVE 10% plus free shipping on orders over $30. (Excludes Shipping, Sales Tax, Gift Certificates).
Shop these Dream Products departments now
Unique housewares, As Seen on TV products, organizational ideas, tools, and more dream products to improve daily living.