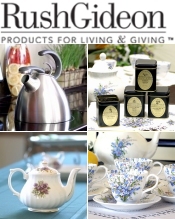 RushGideon - The Tea Room
Unique teapots, tea cups, and ceramic tea sets for the perfect cup of tea
Get Free shipping on qualifying orders of $79 or more Enter the coupon code - FREESHP9 - at checkout on the RushGideon website.
Shop these RushGideon departments now
Make the perfect cup of tea, host a tea party, or find ideal gifts for tea drinkers at Rush Gideon. Browse their catalog.