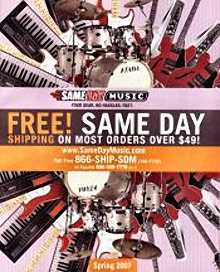 Same Day Music
Guitars, drums, keyboards, and DJ equipment for sale
Get Free Shipping on orders of $29 or more Your Free Shipping offer will be applied automatically at checkout on the Same Day Music website.
Shop these Same Day Music departments now
Huge selection, guaranteed low prices and fast shipping. That's the Same Day Music way! Search their user friendly site by instrument (such as bass electric guitars) or brand (such as Taylor) for the best deal on the best guitars, keyboards, drums, and instrument accessories every day! Same Day carries a full line of acoustic guitars, and lead and bass electric guitars from trusted names like Martin, Ibanez and Fender.