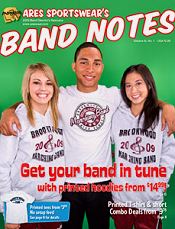 Band Notes - Band and Orchestra Clothing
Marching band apparel and clothing featuring your school's orchestra or marching band logos
Get 5% Off your first order! Enter code - BAND5 - in the Key Code Promotion box at checkout on the ARES Sportswear website.
Shop Band Notes - Band and Orchestra Clothing Now!
If your school band or orchestra needs some new duds, head to Band Notes at ARES - proud to be on the forefront of the screen-printing and embroidery business for over a dozen years! Outfit your band members with the hippest styles of custom marching band apparel and marching band clothing that feature their school logos on every piece!