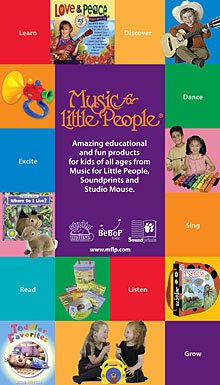 Music For Little People
Music For Little People – Musical Instruments, CDs, educational toys, and book sets that will make your kids love learning!
Get 15% Off of your entire order (online orders only) To receive your discount code, please click on Get Savings Offer button below.
Shop these Music for LP departments now
Music For Little People's catalog is packed with the best in musical instruments, CDs, books, toys and all things that make kids truly enjoy learning. They are your one stop shopping catalog for gift-giving all year long. See top brands including BeBoP and Smithsonian, plus musical toys and gifts for every child on your list.