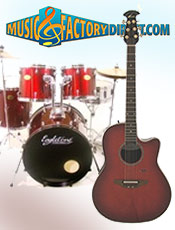 Music Factory Direct – Percussion & Guitar
Drums, percussion kits, guitars, keyboards and more percussion musical instruments
Get 8% off clearance items plus 8% off accessories Enter code - catalog - at checkout on Music Factory Direct's website. Not valid on Yamaha products.
Shop these Music Factory departments now
Rock on with high quality musical instruments and accessories featured at factory direct prices from keyboards to guitars, percussion musical instruments, stands, kits and more.