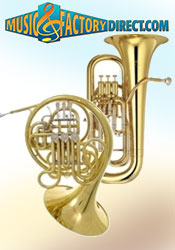 Music Factory Direct – Brass & Woodwinds
Woodwind, brasswind and stringed instruments for less
Get 8% off clearance items plus 8% off accessories Enter code catalog at checkout on Music Factory Direct's website. Not valid on Yamaha products.
Shop these Music Factory departments now
Discover a world of woodwind and brasswind instruments ready to be shipped from Music Factory Direct, featuring brass and woodwind instruments at factory direct prices.