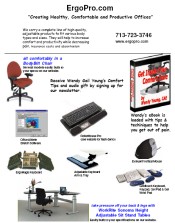 ErgoPro.com
Furniture and equipment for an ergonomic office
10% discount on your initial order over $150 When placing your order online type the code - CATCOM - in the "Special Shipping Instructions" box located before the credit card area. Your discount will be manually processed and you will receive notification via email.
Shop the experts in ergonomics in the workplace. Choose the latest in ergonomic office furniture and equipment, including:
Ergonomic chairs - Maintain healthy posture and all day comfort with ergonomic posture chairs. Choose a standard or executive ergonomic chair for each member of your staff. The right ergonomic office chairs can improve performance and reduce back complaints and other injuries associated with sitting in a regular office chair.